Fight in Mid-air Almost Cause Plane to Make Emergency Landing
A plane en route China to Hong gong was almost forced to land when three women engaged in a brawl, reason being that one of the woman's baby was making too much noise.
Air China Flight 433 was flying peacefully when two women told the woman behind them to take care of her baby who was crying loud, the woman instead shouted at them and that infuriated the two women and that brought about the fight.
In the words of another passenger, Xiong Wan, 45, who witnessed the entire scene, according to Daily Mail Online.
"I was sitting right next to them when they started telling the woman to shut the baby up," she reportedly said. "She started shouting back at them, and before I knew what was happening she leant over the seat, and punched one of them ... They were fighting, the baby was now screaming and other passengers were shouting."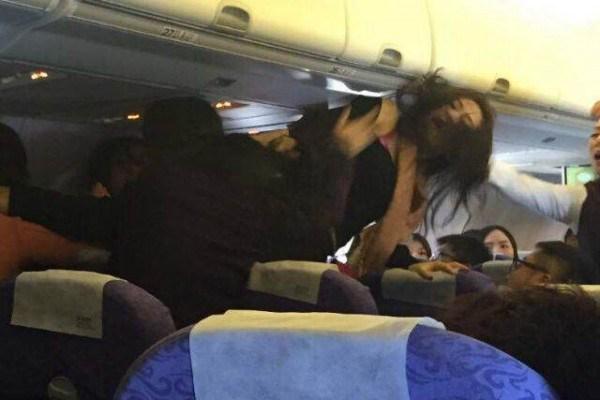 "Passengers cannot behave like this. Each and everyone must adhere to aviation laws to ensure a safe and comfortable flight for all," Air China spokesperson Daio Weimin reportedly said.
Flight 433 landed on time, at 10:51 a.m., local time, according to FlightAware. Upon arrival at the airport, Hong Kong police reportedly intervened. It is not clear if there were arrests.
The incident is the latest of a series of incidents in which misbehaving passengers have caused problems on flights.
Chinese President Xi Jinping said in September that tourists from the country should improve their behavior when traveling abroad. However, bad behavior has not been limited to any one country, so perhaps all travelers should heed his advice.
Source: Mashable.com